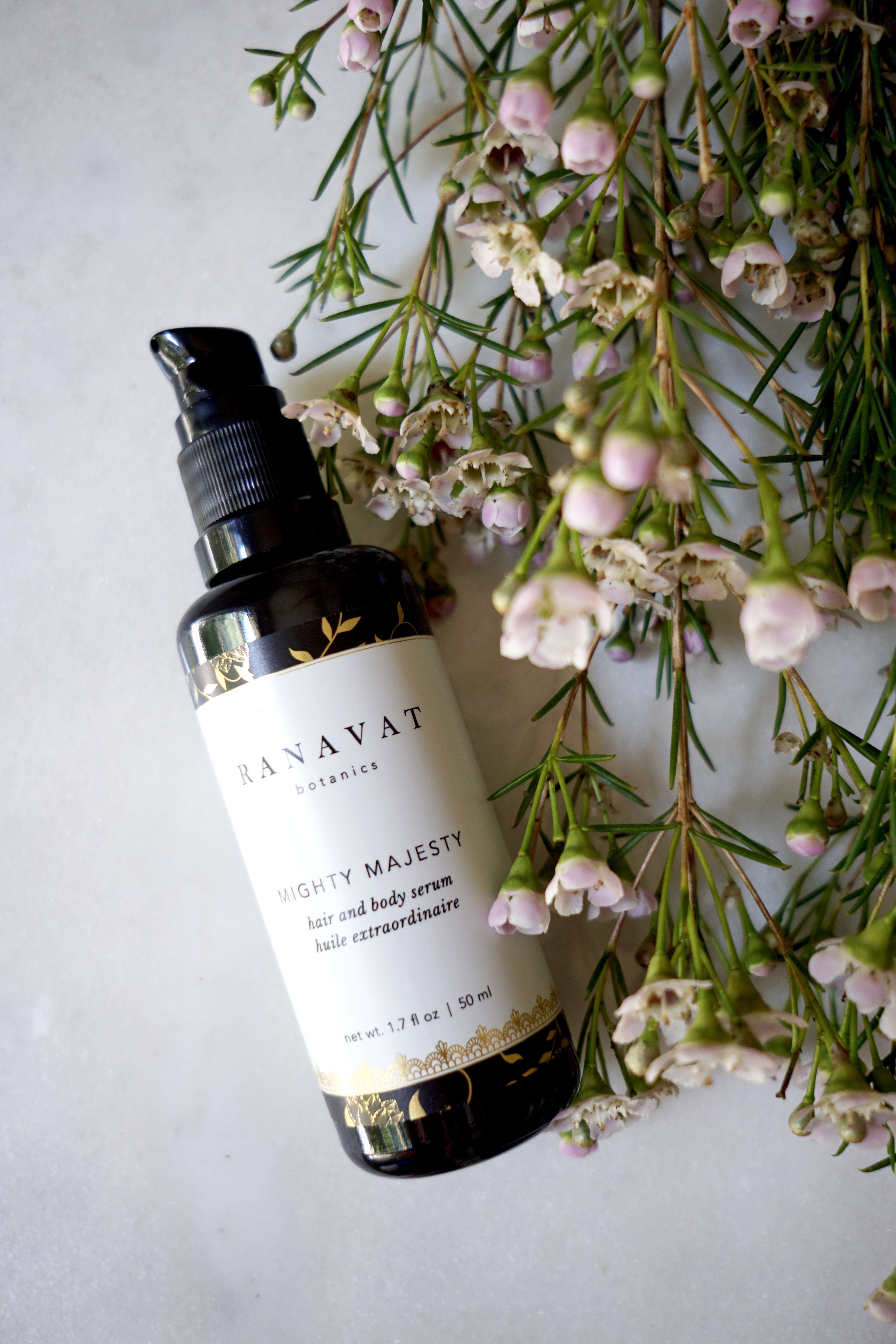 Sure, when I first started transitioning over to green beauty it was more about seeking healthier products and avoiding certain ingredients, however, it didn't take long until I'd realized I had stumbled into the whole world of products that had so much love and attention to detail put into them. Much more so than anything you'd find on the shelf of a mainstream store (at least at that time). These products were so different than anything I'd experienced before!
I have just such a special brand to share with you all today. Ranavat Botanics embodies everything that made me fall in love with green beauty in the first place. Their products are lovely, unique, and made with so much care and intention. I've spent the last few months testing out some of their products and getting to know the founder and it has been such a pleasure!
Thank you to Ranavat Botanics for sponsoring this post. I only partner with brands I fully believe in, that also meet my strict standards for ingredients and quality, and that I think will add value to you, my readers. Ranavat Botanics meets all of these things and more. They are a very special brand and I hope you enjoy their line as much as I have.
The Story Of Ranavat Botanics
Ranavat is inspired by Indian Royalty and their ancient beauty rituals. Each product is meant to be a sensory experience that draws you in. From the beautifully done packaging to the immersive scents (where are my jasmine lovers at??), you can't help but slow down and enjoy a little moment of self-care. Who doesn't need a little more of that?
Michelle Ranavat, founder. Photo via ranavatbotanics.com
The founder, Michelle Ranavat, is passionate, to say the least. Hearing her speak about her products, you can tell just how much care she's taken with each element of creating the line. She's managed to carefully infuse ancient Indian beauty traditions into a very timeless and effective line. As a young mom and entrepreneur, she understands just how busy life is and just how needed a little moment to yourself can be. Speaking to her, we relate on so many levels and I know she gets it when it comes to self-care!
The ingredient lists are kept short, making sure each ingredient has a purpose (you won't find any fillers here) and letting key ingredients be the stars and speak for themselves. What I was most impressed with is how far they go to maintain ingredient potency. Instead of using processes that breakdown the effectiveness of the products, they do things like steam distill their essential oils (which takes more time and raw product) and spend days infusing batches of herbs slowly and gently. It's a longer process, but well worth it to keep the products as effective as possible!
It's also worth noting that Ranavat gives a portion of their sales to fight human trafficking, through Ignite Hope Chicago.

Ranavat Botanics Review
As a Jasmine lover, I kind of had a feeling I'd like this! You can use it as a toner after cleansing, a quick hydration refresher during the day, or you can use it to mix into their Masques. The Jasmine Hydrating Tonique has just one sole ingredient: Pure jasmine officinale. It isn't diluted or mixed with anything so that you get the full benefits of the jasmine inside. Jasmine hydrates, works as an antiseptic, promotes healing, and so much more. I think anyone would agree, that the scent is the best part!
This powerhouse serum is all active ingredients. There's no carrier oils, just ingredients with a purpose to treat your skin. One of the stars of the show here is the famed saffron, which works wonders with hyperpigmentation, call repair, and slowing down skin's aging process.
You can see what a rich and vibrant serum this is from the deep amber hue in the close up above! The scent is a very lovely mix of deep florals with a hint of spice. Radiant Rani is a very moisturizing serum, so I only need a pump for my whole face. Unless I'm feeling very dry, I don't need any other moisturizer after I've applied it, since it moisturizes so deeply and it leaves my skin feeling very soft and smooth.
Another one for my jasmine fans! This serum is so lovely and it's hard to decide whether to use it for my hair or body, so usually, I do a little of both. For hair, you can either use it as a mask prior to washing (which will give you the SOFTEST hair, by the way!) or you can use a little after you wash to help tame frizz. I use it both ways, but since I often forget to hair mask, mostly, I use it to smooth my ends. Jasmine oil is really good for scalps, so if you can make time to mask with it, it's worth it.
I'd love to slather this all over my body, but in an effort to spare some for my hair to use too, I tend to use it more as a perfume. I adore the way it smells!
You can purchase Ranavat's line directly from their site, or you can find them at retailers such as The Detox Market, Credo, or Neiman Marcus. Stayed tuned, as we're teaming up for something fun tomorrow over on Instagram!