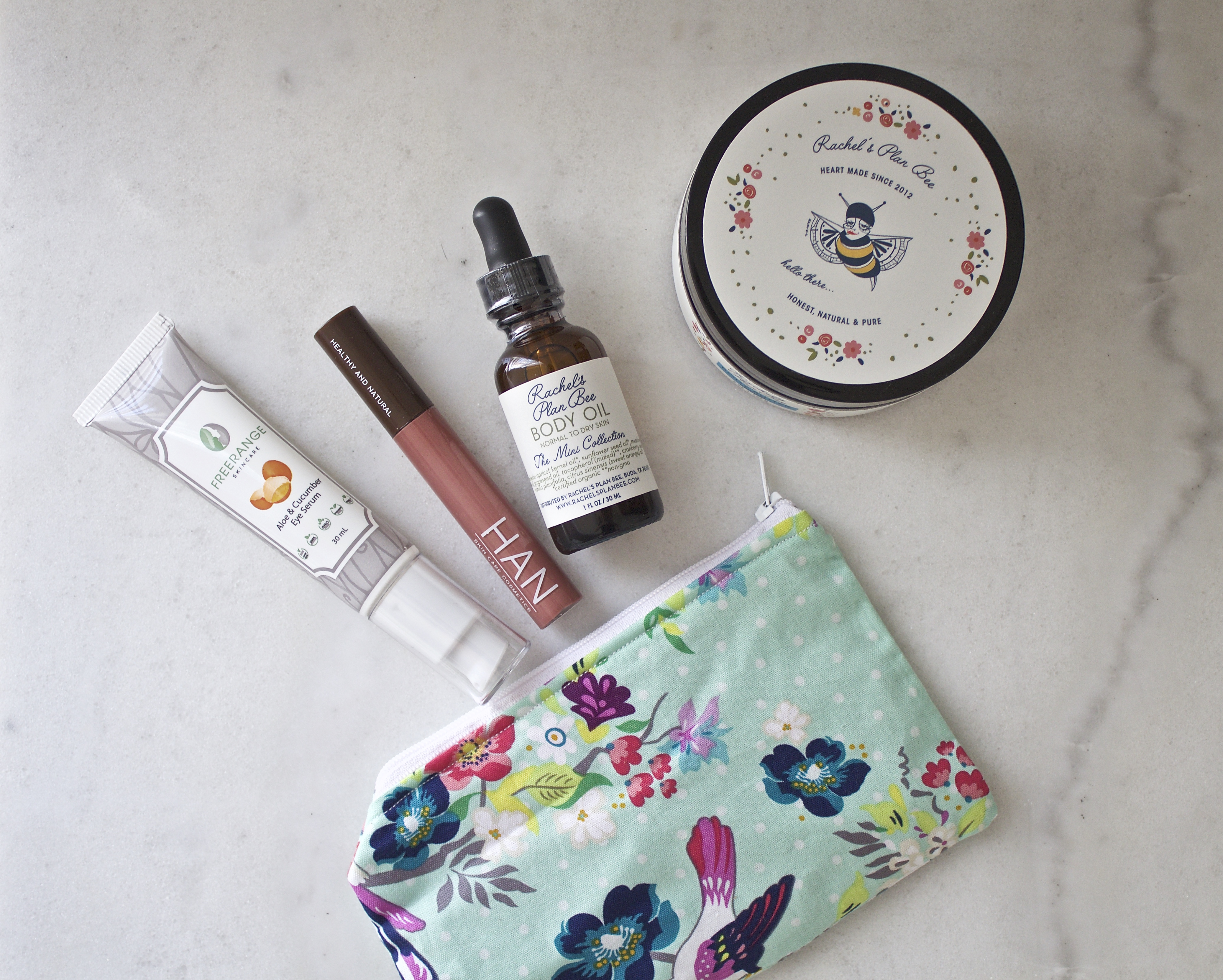 Finally, it's officially Spring. After 80 degree weather in February and then below freezing temps and a surprise snow storm in March, I'm ready to move on to more stable weather in April and May. Hopefully that will be the case, but in the meantime, I can't let the February and March Glowing Beets boxes go by unmentioned. Both included some new products (new to me that is) and some really cute items. Glowing Beets is truly a great box for those who like to get a variety of products to try and see what's out there. As always, both months featured a good mix of products!
February Box
When I first peeked inside the February, my eyes immediately went to the pretty little makeup pouch! This box included almost all full size products and some really great brands.
Boho Chic Cosmetic Bag: Seriously one of the cutest little makeup pouches I've seen. It's made in the US with 100% organic cotton. Even the inside has organic cotton padding. It's the perfect size to stash lipstick, some compacts and maybe some hand cream and put the whole thing in your purse.
Rachel's Plan Bee Body Butter: This is a brand I know and I've enjoyed everything that I've tried so far from them. Their body butter is one of my favorites. It has a light, whipped texture and the blend of oils and butters combined with beeswax makes for long lasting moisture. The scent is so good too- vanilla mixed with sweet orange and grapefruit.
Rachel's Plan Bee Body Oil (Mini size): This oil has the same nice scent as the body butter. It's a light oil that absorbs right in, so it's perfect to use right after you get out of the shower to seal in moisture.
Free Range Skincare Aloe & Cucumber Eye Serum: I wasn't sure what to expect with this, but I've actually ended up liking it quite a bit. It's more of a gel and a little goes a long way. It almost has a cooling effect and the aloe and cucumber really do a great job of tightening up and moisturizing my eye area. I've noticed decreased puffiness when I use this too.
HAN Skincare Cosmetics Lip Gloss: Love a good lip gloss that isn't sticky and this fits the bill! The color I received is Nude Rose and it's a great everyday, neutral color. It's very moisturizing and infused with vitamins and super fruit extracts. Another plus is that it's pigmented with plant and vegetable pigments rather than artificial colors.
March Box
The March box had a really fun mix of products. From pins with a great cause to a custom colored lipstick just for Glowing Beets!
Fred and Far Pins: The box included two really cute pins from Fred and Far, which is a brand on a mission to start a self love movement. The pins have inspiring messages to help you love and accept yourself, so they serve as little reminders as you see them throughout the day.
FitGlow Beauty Lipstick: I'm no stranger to FitGlow Beauty's lipstick, so I was very excited to see it in this month's box! They created a custom color for Glow Beets and it's the prettiest shade of pink. Their lipstick is very moisturizing and wears for a long time.
Gaffer & Child Face Cleanser: This brand is new to me, but I love a gentle cleanser, so I was excited to try this. It's not a foamy, sudsy cleanser. Instead you massage a few pumps onto your skin and rinse it off. The natural oils in it help to dissolve dirt, oil and makeup on your face, so it does a great job of getting your skin clean.
Gaffer & Child Hydrating Serum: The perfect serum to follow up your cleansing routine with, this is a light blend of oils and extracts. It has simple ingredients, but they all have proven benefits. I love that they used carrot seed extract as well. I think that's a hidden gem of an ingredient and I don't see it used much.
If you love a variety of products, this is a box I highly recommend. Each month you get a mix similar to what these past two month's included. If you're interested in trying Glowing Beets, you can sign up here. xo